Kosovo police raided Banjska; They search terrain with dogs; EULEX just oversees it
Members of the special unit of the so-called Kosovo Police entered the village of Banjska with dogs and began searching the village itself and its surroundings.
Source: Tanjug, Kosovo online, euronews.rs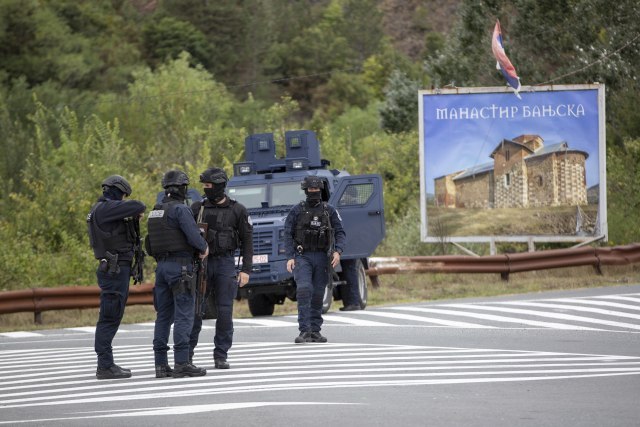 As reported by Tanjug, along with members of the so-called Kosovo police, there are also members of KFOR participating in the action.

Members of the EULEX mission are on the spot, monitoring the whole operation, the agency says.

Spokesman of Euro News Serbia reported that members of the Kosovo Special Police, Intervention Police, forensics and KFOR were on the ground, and that they said that it was a routine search of the ground because it is assumed that there are still weapons left behind.

Deputy Director of the Kosovo Police for the North region, Veton Elshani, told Kosovo Online that the cleaning of the ground in Banjska, which began on September 25, the day after the conflict, continued today, and that members of KFOR and EULEX are also present on the ground.

Elshani points out that the level of security in Banjska has decreased, noting that yesterday the members of the Special Unit of the Kosovo Police, who have been in Banjska since September 24, were replaced by an intervention unit.

"We started cleaning the terrain on Monday, the day after September 24, on the left side above the Banjska monastery. We finished that yesterday. Today we started cleaning the right side, where people fled, where we found the armored car. It's cleaning the terrain, it's not search. There are also KFOR, EULEX, police officers with K-9 dogs. More people are needed to clear that zone. For now, I have no information whether anything new was found during the clearing of the field," said Elshani.