Russians, get ready; "Marichka" is coming VIDEO
A video is circulating on social networks showing a new Ukrainian "trump" moving just below the surface of the water.
Source: Jutarnji list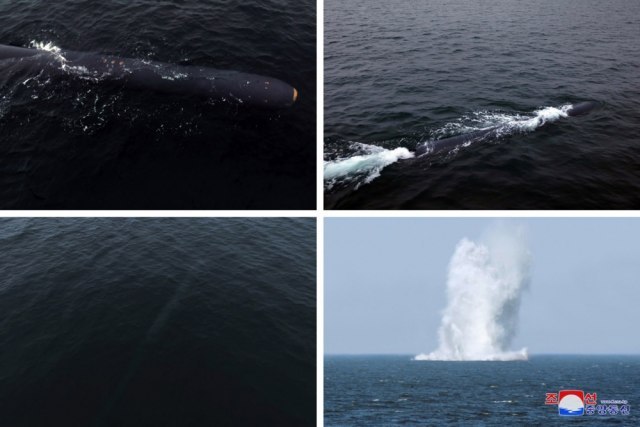 Much about the design of the drone, dubbed "Marichka," is still unclear, but the group behind its development says it could be used to carry out kamikaze attacks on Russian ships and naval infrastructure, The War Zone writes.

Sky News, on the other hand, writes that it is allegedly a system developed by volunteer engineers at a cost of $433,000 a piece and which can perform attack, delivery or reconnaissance missions.

In any case, these are the kinds of capabilities that the Ukrainians are very interested in after unmanned surface vessels have already become a key Ukrainian weapon for attacking the Russian navy and other targets in and around the Black Sea.
⚡️More detailed footage showing the design and appearance of the Marichka underwater multi-purpose drone developed by 🇺🇦Ukrainian inventors pic.twitter.com/NQBDzgtEWf

— 🇺🇦Ukrainian Front (@front_ukrainian) September 25, 2023
Marichka is expected to be used in suicide operations against the Russian Black Sea Fleet and key Russian infrastructure and other facilities.

The group "AMMO Ukraine", which presents itself as a charitable endowment, published a new video of "Marichka" on its profiles on Monday. By the way, that group has been promoting the Unmanned Underwater Vehicle (UUV) since August and is looking for investments and donations to support its development. This comes after another group, Brave-1, revealed earlier this year plans to create a fleet of smaller kamikaze UUVs, known as Tolokas.

It is not known exactly what kind of drive "Marichka" has, which is about six meters long and slightly more than one meter in diameter. There are no clear indications of how it is powered, and "AMMO Ukraine" claims that "Marichka" has a maximum range of 1,000 kilometers, which would mean that it can sail from western Ukrainian ports in one direction to almost any point in the Black Sea. Also, suitable mainships at sea could be used to launch UUVs closer to their destination.

"Marichka" was presented as a potential kamikaze weapon filled with explosives that could be used to attack ships and coastal infrastructure, including bridges.
Also, the "Marichka" could move under certain physical defense systems that could defeat the USV, including floating booms and various barriers that Russian forces have installed in the Sevastopol Bay on the occupied Crimean peninsula.

It could also be useful as a harder-to-detect maritime intelligence gathering platform. AMMO Ukraine also raised the possibility that this underwater drone could be used as a discreet, small transport vehicle that could carry critical supplies for military units or even civilians in coastal areas.

As a means of transportation, "Marichka" could also be useful for supporting Ukrainian special operations units for raids and other actions behind Russian lines in areas such as Crimea. Although it seems more likely that this is the secondary purpose of this vessel.