Chaos in Croatia; Dalmatia cut off from the rest of the country VIDEO/PHOTO
The snow caused a complete collapse of traffic and cut off Dalmatia from the rest of Croatia, local media reports.
Source: B92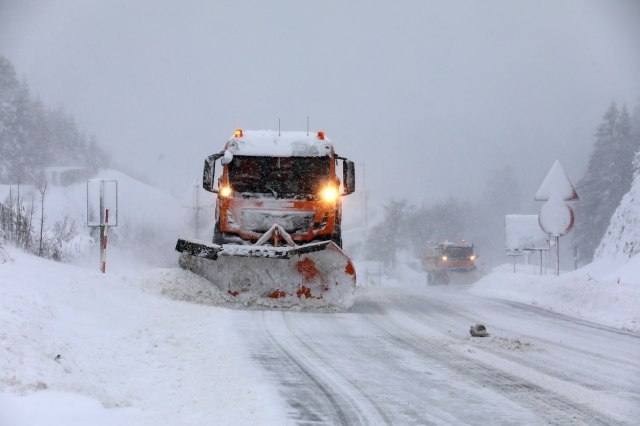 Due to the huge amount of snow, as reported by Index.hr, as well as the stormy wind, not a single traffic direction from the direction of Dalmatia towards the interior of the country is passable. Local authorities had to open reception centers in Gračac, Gospić, Obrovac and Knin. Rescuers from HGSS are also on the ground helping to get everyone stuck in the snow out.

The Croatian media report that at least 25 vehicles ignored the ban and entered the closed section of the A1 highway near the Sveti Rok tunnel, as a result of which they got stuck in the debris and now the crews of Croatian highways are trying to get them out.
In addition to the snow, a strong storm, which blows at a speed of about 150 kilometers per hour, causes great difficulties for drivers, so it is a real blizzard at times.

The State Meteorological Service stated on its website that the height of the snow cover in Gospić alone is 71 centimeters.
The Croatian Auto Club (HAK) warns that winter road maintenance is in progress, which is why there are a lot of delays, and winter services are moving with difficulty.

Due to wind and snow, sections of the A1 Zagreb-Split-Ploče highway between the Sveti Rok and Posedarje junctions are closed to all traffic; state road DC1 Vaganac-Korenica-Udbina-Gračac-Knin; the section of the Jadranska magistrala (DC8) between Senj and Sveta Maria Magdalena; state road DC25 Korenica-Lički Osik; state road DC27 Gračac-Obrovac; state road DC42 in the town of Poljanak; state road DC50 Gračac-Gospić...
A red weather alert is still in effect for that part of the country because more snowfall is expected.